Transforming How MSPs, MSSPs and VARs Protect their Customers
Exposed credentials continue to be a leading cause of data breaches, making it imperative for organizations to revamp their defenses against this type of threat. Active Directory is particularly appealing to attackers; infiltrating just one account can grant them access to a company's critical data and infrastructure. Alarmingly, threat actors on the Dark Web traffic a staggering number of compromised credentials, a substantial chunk of which could be active in domains you oversee. This presents both a duty and an opportunity for security professionals — whether they are Managed Service Providers, tech resellers, working in-house, or representing other important stakeholders — to aid their organizations and clients in planning effective strategies to guard against the risk of credential compromise in Active Directory.
Enter Enzoic for Active Directory Lite, a powerful free tool that performs an extensive password scan of Active Directory environments. The scan produces customizable reports that not only provide a clear picture of current risk levels but also suggest possible solutions to address these vulnerabilities.
The Enzoic for AD Lite Advantage
Anyone with access to a Domain Controller can easily deploy Enzoic for AD Lite to carry out a risk evaluation in an environment. Users can select from two different management report styles when exporting from the scan based on the intended audience:
Summary Report: This straightforward report identifies and categorizes the different levels of risk—high, medium, and low—present in an environment. The tiered classification system is designed to help teams easily identify and prioritize the main risk areas as highlighted in the scan results, offering a structured approach to remediation. For each category of threat, the report provides detailed guidelines on how to address the issues.
The scan evaluates the top areas of risk associated with account security, and the report includes specific numbers on how many of the following compromises are in the scanned environment:
Compromised Passwords
No Passwords
Weak Passwords
Password Sharing
Stale Accounts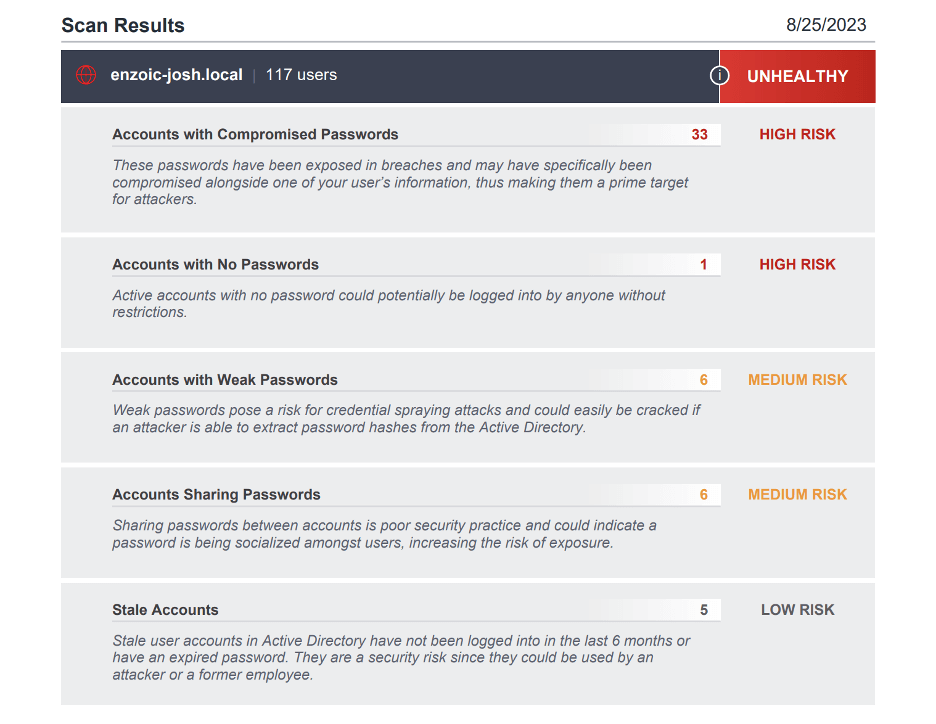 Detailed Report: The detailed report expands upon the initial insights provided in the summary report, equipping teams with all the necessary data to tackle existing compromises effectively. This report serves a dual purpose: firstly, it highlights the potential dangers of not fixing the identified vulnerabilities; secondly, it offers a clear, step-by-step remediation guide to address the issues.
Under each threat category is a compiled list of all compromised accounts. This list is organized by threat level and includes the administrative statuses of each account, helping teams identify and prioritize their actions based on the severity of the threat each account poses.
Personalize Your Security Approach with Customizable Reports: One of the standout features of Enzoic for AD Lite is its built-in customization options that allow you to tailor each report to mirror your unique brand identity. Each time you generate a report in the console, you will have the option to upload your desired logo for inclusion in the report. Whether you're an organization presenting the results internally or a partner, reseller, MSP, or MSSP aiming to leave a lasting impression on your customers, the ability to personalize these reports with your logo amplifies your commitment to security.
Leveraging Enzoic for AD Lite for Your Customers
Enzoic for AD Lite's proactive approach assists in identifying threats before they escalate into breaches. The user-friendly reporting format is especially beneficial for presenting to stakeholders who are less fluent in Active Directory, as it aids them in comprehending their risks. Moreover, the reports provide guided, step-by-step instructions for addressing vulnerabilities, helping organizations remediate their risk for free.
Take Action Today: Enhance Security
Enzoic for AD Lite is an essential resource for discerning your customers' password-related risks, which in turn enables you to recommend the optimal security measures.